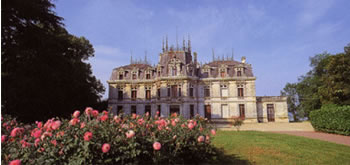 Chateau Tayac is a true top chateau, located in Cotes de Bourg, Bordeaux France with a great terroir and a long history.
The family-owned petit chateau has a vineyard that covers an area of 30 hectares, that is very gifted for winemaking. Shallow topsoil of 30cm-80cm over limestone rock. Very difficult to plough but excellent for making wines of high quality and finesse. South-facing slope exposed to the two rivers, the Garonne and the Dordogne, as they flow into the Gironde estuary. The vineyard is situated at 54 metres above sea-level and enjoys a micro-climate, which protects the wines from spring frosts.

Their wine has gained international reputation and is served at some of the world's greatest restaurants.
This success was no easy task for Annick and Pierre Saturny, who took over the estate in April 1959. The vineyard had been abandoned over the previous two decades and had to be completely overhauled.
Their courage and passion for their kept them going as they gradually re-planted the vineyard, carrying out massal selections. This is how they discovered the "red-stem" Merlot, "Merlot queue rouge" which enjoys a favourable exposure, growing on the south-facing slope, overlooking the river. Traditional vinegrowing techniques are maintained, such as ploughing of the soil and harvesting by hand.
The cellars have been extended and are equipped with the latest technology: a perforated sorting table to allow any water to be drained off, a bottling line and labelling machine. These modern conveniences are at the service of traditional wine growing know-how, with the sole aim of making a wine of optimal quality.
Today, their sons, Philippe and Loic, continue the tradition with the same enthusiasm.


Chetau Tayac Le Prestige (Left bottle in the photo)
Mostly Cabernet Sauvignon with 20% Merlot "queue rouge" (red red stem, a clone discovered by owner Pierre Saturny) and a touch of Cabernet Francs. Vine age is 25-50 years. After a long vatting, the wine is aged for up to 18 months in new French oak barrels from Allier.
Tayac Prestige is produced only in fine vintages. "A beautiful, rich, deep garnet colour. A nose packed full of ripe fruit aromas with toasty hints. Superbly rich, full and lush on the palate with fine tannins and attractive spicy notes coming through in a wine combines finesse, elegance and complexity".